Advertisement
True to its name, Boing-Boing Park is dedicated to safety first. You'll rarely need to worry about falling into pits thanks to the noble efforts of Tosanizer V, a robot designed to keep people from jumping across gaps. Spikes are nowhere to be seen either, save for small, spiky robots called Gabyoalls patrolling along the ground that are installed for security. All that safety comes at a cost, though; bounding all over the place can make it difficult to get to where you want to go! True to its name, Boing-Boing Park will have you springing off the walls, the floor, and maybe the ceiling on occasion thanks to large parts of the stage being covered in brightly colored rubber balls that keep you on and off your toes at all times.
To further complicate things, bright, spherical robots Boyorn and Poyorn will tumble around, protected by a thick rubber armor that allows them to take significant damage while happily bouncing about. You might be tempted to blast them on sight, but their high resistance to damage and tendency to rebound off of everything makes it safer to leave them alone if you can help it. However you decide to tackle this stage, you'll want to keep an eye out for solid ground to take a breather every now and then.
Advertisement
You'll encounter all sorts of unusual platforming perils along the way, such as hands that recoil for a few seconds when you shoot them, only to swing around in a mighty slap when their timer runs out. They won't cause any damage to Mega Man and are useful for crossing larger gaps that you may not be able to reach otherwise. Careful as you're bouncing around, though; Bunby Balloons, robots designed to search for lost children, often seem to float right into your jumps. Their balloons are armored, making them difficult to pierce with regular attacks… and raising a lot of questions about how these robots stay afloat to begin with.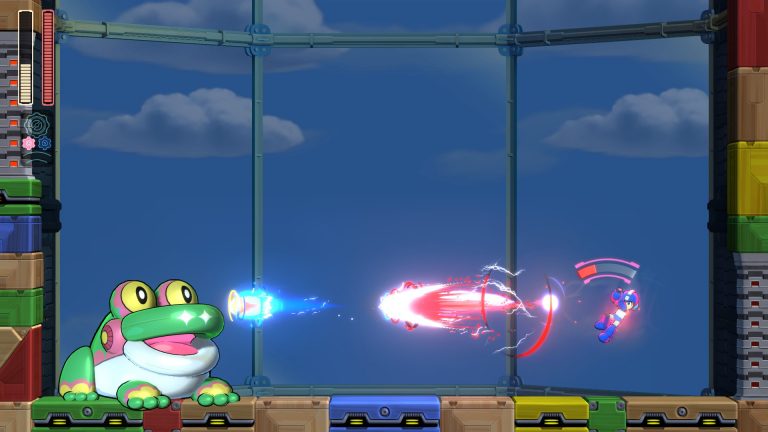 Advertisement