Advertisement
Just Push Start was fortunate enough to be invited along to the yearly, indie focused, video game event, EGX Rezzed, over the weekend. Getting hands on with countless games, of many genres, and chatting with the developers, we got thoroughly stuck in. Here are our top 5 games of the event, with a couple of honourable mentions that are also certainly worth checking out!
5) Hacktag – Piece of Cake studios
Hacktag is a cooperative game that splits the screen in two for local coop. Both players play a different role, either a hacker present at the location or one hacking the systems from distance. Each role players in its own unique way, with things to avoid, unlock for the other player and call out. This makes the online play where you cannot see the other half of the screen even more intriguing, where communication wouldn't just be key it would be a necessity.
Advertisement
4) Catastronauts – Inertia Game Studios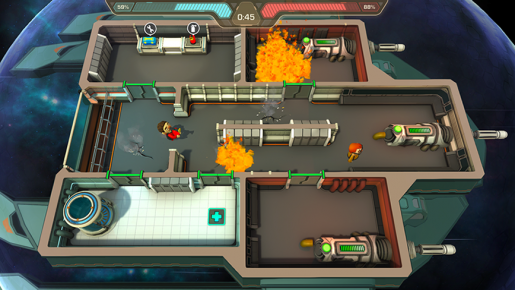 Simply put Catastronauts is like Overcooked in space. It has a similar rather cartoony art style and same hectic gameplay but players are instead aboard various spacecraft which are under attack. Players must run around doing a variety of jobs including firing laser cannons, repairing parts of the ship, putting out fires and much more. In a similar way to Overcooked players constantly feel under pressure and as if they don't have enough hands to juggle the required jobs, but that just makes the experience entertaining.
Advertisement