One Punch Man: A Hero Nobody Knows will be discharged on February 28th, and Bandai Namco have discharged the dispatch trailer. Despite the fact that it hasn't propelled. Go figure. Anyway, the video is two minutes in length, and it's only a series of KOs performed by Saitama. I presume the goal behind the video was to exhibit the different characters – both saints and beasts – that are frequently what represents the moment of truth a battling game.
I despite everything can't get over how great the thought sounds on paper. You'd think a One Punch Man videogame wasn't possible well, what with Saitama being Saitama. In any case, there's a trick – you don't really play as him. You play as different characters, and as the session advances, your Saitama-meter gradually tops off. At the point when it's full, he shows up out of the blue and has your spot in battle. He's immune and a solitary punch from him implies victory.You end up with a connecting with battle game that stays consistent with the source material – at any rate that is the manner by which I trust it'll turn out.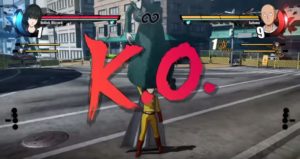 With respect to the trailer, you can watch it here. In the event that you don't have the two minutes, I'm going to list everybody who shows up in it, arranged by appearance: Vaccine Man, Genos, Hellish Blizzard, Mosquito Girl, Mumen Rider, Speed-o'- Sound Sonic, Carnage Kabuto, Tank-Top Tiger, Tank-Top Blackhole, Tank-Top Master, "Snakebite" Snek, Spring Mustachio, Crablante (albeit battling him as post-male pattern baldness Saitama is emphatically non-ordinance), Deep Sea King, Terrible Tornado, Metal Knight, Metal Bat, Child Emperor, Handsome Kamen Amai Mask, Stinger, Atomic Samurai, Silverfang, Puri-puri Prisoner, Melzargard and Boros.
Obviously, they've just declared the Season Pass. It will contain four character packs – the first, coming in April, is Suiryu. Another is coming in the spring, with another two in the late spring. The last of those two is Garou – even I can tell that from the outline.