Advertisement
Final Fantasy XV has received an Assassin's Creed themed DLC. This is a free download for the main sport that ought to be accessible to everybody who has upgraded to the latest version of the game. It needs the consumer to download 800 MB DLC which is available on the PlayStation Store starting August 31st. It will be a time limited DLC be sure to catch it from shop before it's officially eliminated by Square Enix. That is a collaboration between Ubisoft and Square Enix.
How To Access Assassin's Festival DLC
To access the Assassin's Festival DLC, you will first have to download it from the PlayStation Store. Here is the link to the DLC for PS4 while you can find the same on Xbox One as well. Once you have downloaded the DLC, you should be able to access it from the main title menu by going into 'Special' selection and then picking the DLC from there.
How To Get All Costumes From Assassin's Festival DLC
Master Assassin's Robes – Obtain the Dream Egg by finishing the Moogle Chocobo Carnival Festival.
Medjay Assassin's Robes – Complete the main story portion for the Assassin's Festival.
Medjay Assassin's Shield – You will need to finish the treasure hunt. Here is a good video that cover all of the treasures that have to be collected for it.
Advertisement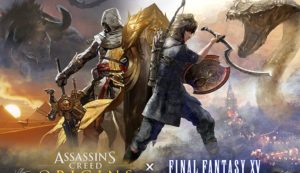 How To Get All Accessories From Assassin's Festival DLC
Assassin's Insignia Car Decal – Choose the special Assassin's luck drawing 4 to 5 times to get get this accessory.
Assassin Mascot Car Sticker – Collect 20 Assassin Medals.
Chocobo Camera Filter (Viva La Vista) – Collect 30 Assassin Medals.
Assassin Frame for Camera – Collect 90 Assassin Medals.
Big Master Typhoon Lure – Reward for one of the Luck Drawing.
How To Get All Trophies From Assassin's Festival DLC
Complete the two Chocobo races to get Lestallum Speedway Medal and Meteor Circuit Medal.
Perform various Assassin's related kills for the NPC on the rooftop across from the Leville Hotel to get Haystack Assassination Medal, Doorway Assassination Medal, Garbage Assassination Medal and Air Assassination Medal.
How To Get All Cooking Recipes From Assassin's Festival DLC
Semur Skewers – You will have to eat it from the Square Enix Cafe in order to unlock its recipe for Ignis.
Advertisement
Final Fantasy XV is available now for the PS4 and Xbox One. It will be released for the PC in early 2018 and features improved visuals and new features along with all the post-launch DLC content.