Here Is the Fortnite Patch Notes for the v12.20 Fortnite Update. Today's update includes this' Choppa' Helicopter vehicle's debut.
Epic Games introduced the Update now which brought a lot of capabilities and escapes. Before the servers the Apple program shop upgraded Fortnite's description. The description said that helicopters will be added in the Fortnite of today upgrade together with The Spy Games.
Epic no launch patch notes that are Fortnite On their site. But we have created our very own limitation notes for the current v12.20 Fortnite upgrade that you'll discover below.
Fortnite 12.20 Update Patch Notes
Choppa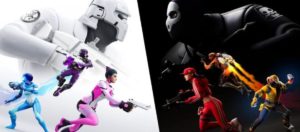 The Choppa is the car. Chapter 2 Has has the motorboats that compared to the quantity of Vehicles in phase 1 isn't anything.
The Choppa can hold up to five players at once, one driver and four passengers. There's no firing weapon on the helicopter but there is a boost for the choppa to help you get to your destination much quicker.
RELATED:
Fortnite Leaked Skin Challenges – Awaken Oro Challenges & Rewards
The Choppa has 1,500 HP which is ideal due to the fact that it's a slow vehicle and players can't just off the helicopter, so you'll need to land if the helicopter is about to explode. There's also speakers that you can enable and disable that'll play some music as you take to the sky.
Here's a look at the official Fortnite trailer for the choppa:
Fortnite 'Choppa' Helicopter Trailer – New Flying Vehicle
Locker Presets
Epic Games have finally added Fortnite locker presets, a feature that has been requested for some time by the community. Instead of having to individually change each item that you want to wear in the locker, you can now create presets.
This means you can set up your favourite Fortnite combo in the locker which includes five slots. The five slots are the Fortnite skin, back bling, pickaxe, glider, and wrap. You can then save this present/loadout.
RELATED:
New Fortnite Update v12.21 – Patch Notes, Server Downtime, Status, Leaks
You can make a number of different presents and select them when you want to change up your look. You'll be able to