Investigate the spilled difficulties for Fortnite Season multi week 8.
We're approaching the booked finish of Fortnite Season 2, which is set to be April 30. The season will probably reach out after that date with some Overtime Challenges, however that will be normal – now.
Commercial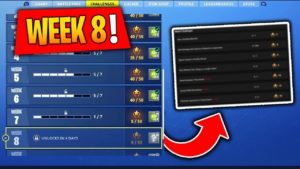 Week 8 is here and the difficulties are just a couple of days away. Information digger @iFireMonkey got a sneak look of the difficulties and the 400,000 XP rewards that accompany them. The difficulties include:
Search Chests at Landmarks (0/10)
Eliminate players  with SMGs from within 15 meters (0/3)
Hit 5 consecutive weak points while harvesting materials (0/3)
Fly a Choppa under Purple, Red, and Blue Steel Bridge (0/1)
Stoke a Campfire, Consume Foraged Apple, Consume Foraged Mushroom (0/1)
Land at the Shark and visit The Agency in the same match (0/1)
Hit Pistol headshots on players or Henchmen (0/10)
Search Skye's sword in a stone found in high places (0/5)
Block damages with a Kingsman (0/200)
Bounce on Crash Pads in different matches (0/3)
Many of these challenges are relatively easy, but a few of them will require a guide. The bridge challenge is one that we've seen before, but finding Skye's swords will be a bit difficult.
Read More: Midas in Fortnite is more historically accurate than you thought
The rest of these are self-explanatory. You'll be able to do the bulk of the Week 8 Challenges in Team Rumble, which is the ideal place to chase your challenge rewards.
Thankfully, the in-game map will help point you in the right direction. Of course, we'll have you covered with the exact locations of all of the tricky challenges when they go live.
Read More: Fortnite 'Scootin' emote leads to an accidental 3,000-meter Llama ping
Until then, which team are you picking for Skye? Ghost or Shadow? Let us know in the comments and Twitter replies.