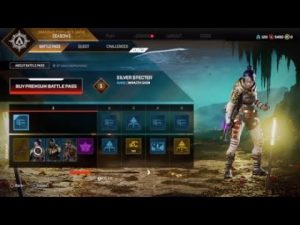 In season 5: Fortune's Favor, along with the common XP boosts, 1000 premium currency, and 1200 crafting metals, there are quite a few grand rewards for those willing to put some premium currency down on a new season. But is it worth it?
With each new season of Apex Legends, there comes a new battle pass.
Apex Packs
While the free battle pass gives you seven Apex Packs already (all rare in value), the premium pass will give you access to an additional seven more. Five more rare packs, one epic pack, and one legendary pack. This will provide you with 14 packs in total for completing the battle pass.
Legend Skins
The thing everyone is after is new character skins. There are definitely some badass new skins, and three of them, you get right of the bat. The legendary ones come later, but that Bangalore skin is sure worth it.
Silver Spectre (Rare Wraith Skin)
Gilded Claw (Rare Bloodhound Skin)
Death Etching (Rare Revenant Skin)
Sky Marshall (Legendary Bangalore Skin)
Loadout Rewards
This premium pass also offers a selection of new weapon skins and charms. This is the best of the new weapon skins and all of the season 5 charms.
Weapon Charms
Trusty Whip
Explorer's Hat
Frost Bite
Best Weapon Skins
Retrofitted Hemlok (Legendary)
Bad Mojo Spitfire (Epic)
Precision Caliber Wingman (Legendary)
Attention to Detail Wingman (Legendary)
Best of the Rest
There are also a few other rewards that stand out as pretty epic cosmetics, even if they aren't as sought out for as the other categories are.
Expedition (Crypto Banner Frame)
Intergalactic (Wraith Banner Frame)
Side Saddle (Loba Emote)
Private Dancer (Mirage Emote)
Loba (Music Pack, not pictured)
Did your favorite legend or gun get a new skin? Is there a reward that makes this an offer you can't refuse? Or would you rather wait for Season 6? The choice is yours.