Advertisement
You will have the option to get a lot of various kind of weapons in The Evil Within 2. Some of them can be uncommon and require a condition to be satisfied while you will have the option to pick the remainder of them as you play through the game.
These weapons are for the most part accessible inside the principle story so except if you miss them, you will have the option to discover them effectively all through the fundamental story crusade.
How To Get Shotgun
There are different varieties of Shotgun that can be acquired. They are the following: Full Barrel Shotgun, Sawed-off Shotgun and Double Barrel Shotgun.
You will be able to get the full barrel shotgun in a storage shed in the business district south of Post Plus. It can be acquired in either Chapter 6-7 or Chapter 11-13.
Sawed-off shotgun is available at any of the following places on the survival and above difficulty setting: The Marrow: Armory, Tredwell Trucking and The Marrow: Facilities. Casual difficulty places it next to a car when you are on the way to Pit Stop.
Advertisement
Double barrel shotgun requires you to complete the side mission for Julian Sykes "The Last Step" and you can locate it in The Marrow: Experimental Wing.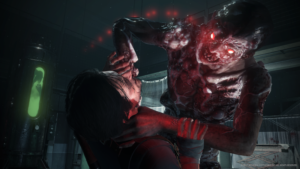 How To Get Flamethrower
You will get a broken flamethrower after defeating the boss in Chapter 11 from The Marrow: Restricted Labs. You can then repair it by getting Flamethrower Fuel Tanks from the Harbinger enemies in the Business district.
How To Get Crossbow
Advertisement
Warden crossbow will be your first such weapon in the game although you can find more variety of arrows for it. This weapon can be located in the Residential district. There are four different types of ammo available for it including explosive bolt, shock bolt, smoke bolt and harpoon bolt.