Advertisement
Yakuza Kiwami is a genuinely simple game generally. The troublesome part begins when you attempt to finish the entirety of the significant targets including getting all the Dragon of Dojima capacities, which will take you a great deal of time and ability. When you have finished each substory and opened all capacities for the Dragon of Dojima style, you can open a supervisor battle with Jo Amon, who is one of the hardest manager fight in the game on the off chance that you don't come arranged.
How To Beat Jo Amon
Jo Amon can be found in the theater square once you have fulfilled the following two requirements.
Completed all 77 substories in the game out of the 78.
Unlocked all 48 Dragon of Dojima abilities.
Once you have fulfilled the requirements listed above, you will be able to fight Jo Amon in Theater Square. To trigger his quest, you will need to start the game in Premium Adventure Mode and leave Haruka at Serena. If he doesn't appear, you can try to change the time of day to trigger his appearance.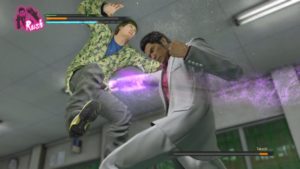 Advertisement
Jo Amon is a fairly tough boss fight but if you use the Dragon Style, he can be pretty easy to beat once you figure out his pattern. He has two phases of boss fights and a huge chunk of health bar so he is not going down that easily. Before fighting him, it is highly recommended to stock on the top quality stamina and health recovery items so you don't lose out to his second phase, which can potentially one hit kill you if given the chance.
The strategy here is to use tiger drop as much as you can when he attacks. You will have to figure out his attack pattern first but the video guide above also details when to attack him, so watch it if you have trouble figuring out his attack pattern.
Advertisement
Yakuza Kiwami is out now exclusively for the PS4. It is the remake of the first Yakuza game originally released on the PS2, and then later remade in HD for the PS3. This remake is a complete overhaul of the game based on the Yakuza Zero engine.