Advertisement
Like VR and movement, toys-to-life is a class that sounds superior to anything it normally winds up being. Taking something from our reality and having it associate with another is unquestionably fascinating. Along these lines, when I saw Starlink: Battle for Atlas would do this, I was loaded up with fervor and fear. While I love building boats and utilizing that to connect with the game, it didn't appear to fit the game's structure. Presently that it's accessible, the thought is presumably one of the most confounding things I've found in quite a while.
The greatest issue Starlink faces isn't the dull nature, yet rather, having physical and computerized being inconsistent with one another. Those intrigued by the toys-to-life viewpoint are taking a gander at about $75 for the game itself, with another $198~ or so setting off to the different toys. Of course, you can abandon a few pilots, yet at any rate $100 of that is only the boats. Most noticeably awful yet, the Switch selective substance goes to make the game significantly increasingly expensive.
Starlink: Battle for Atlas 6
While the Switch adaptation incorporates an advanced rendition of the Zenith and shredder, at present the main way I've seen to get the physical form of either is to purchase the PlayStation or Xbox starter pack. Except if this goes independent or there is a simple method to acquire it, the absolute expense to go physical is about $348~. You can knock that up to $383~ in the event that you incorporate a represent each ship, however that is irrelevant.
In the event that toys aren't your thing, this substance can be acquired carefully. Not exclusively does the base game drop to $60, it incorporates three additional boats, five extra pilots and around nine weapons. Be that as it may, an extra $20 will give you everything found in the $348 cost other than the Cerberus ship and Startail, the two of which are as of now selective to toys. In spite of that, both of the computerized adaptations bode well, particularly with respect to limitations.
Advertisement
Now, keen readers might've noticed I only called the Switch version of Starlink out. Some of this has to do with the fact it contains Fox and his Arwing, both of which are only usable on the Switch, but it also has to do with the restrictions physical players have. You see, once players connect the mount, they're limited to whatever you can connect to it. This means, without the Zenith toy, players can't use it if they choose to stick with the physical version.
So, even if you have all the toys and you're being lazy, Starlink will prevent you from mix matching. This would make sense if it prevented you from, say, equipping weapons while you have weapons on your physical ship, but even without them it will simply have you go without. It's frustrating and far more limited than the simplicity of changing it in a menu.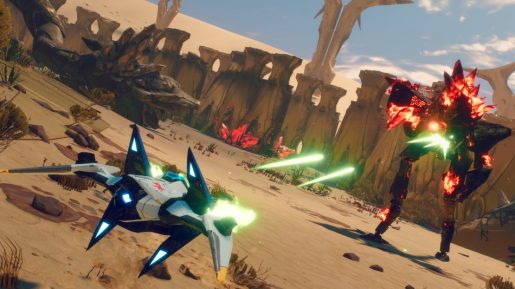 Advertisement
This is what makes the physical component of Starlinkso frustrating. Everything about the physical version has limits. Less content, must build and swap parts around, controller, at least on the Switch, only works with Joy-Cons, and so forth. It makes a game that should be designed around the toys, instead being held back by the very notion of using them. Sure, the core concept is cool and the Arwing is pretty cool, but outside of players love of Star Fox, it's hard to see the toys taking off.