Advertisement
Bundle up and get ready to take care of some arctic animals from the Arctic Bundle DLC.
Frontier Development has announced its earliest DLC coming to the world of Planet Zoo. In time for the winter season, the Arctic Pack DLC expands Planet Zoo on a whole new level.
Arctic Bundle DLC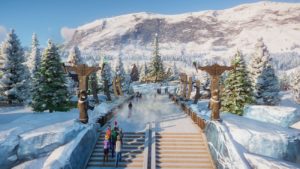 Planet Zoo is a construction and management simulation game Where players build, manage, and take care of zoo animals. The first DLC coming to Planet Zoo will enlarge to a wintery wonderland using all the Arctic Pack.
The Arctic Pack brings hundreds of types that are foliage, two scenarios, four fresh animal habitats, and scenery items. Launching alongside the Arctic Pack is a new upgrade that includes fixes, improvements and new features.
Advertisement
The animals is the Arctic Wolf, the Dall Sheep, Reindeer, and Polar Bear. Players will be able to Breed, research, and raise the animals who call the chilly their home.
Scenarios
The scenarios included in the Arctic Pack DLC include the two following areas.
Norway – Head over to the Scandinavian fjords of Norway to build up a remote animal sanctuary, bringing new Arctic animals to the zoo, tending to their needs, and ensuring a suitable habitat.
Mexico – Expand on an existing zoo that's looking to bring a touch of frost to its guests, while learning how to keep Arctic animals comfortable in a challenging hot climate.
The Arctic Pack is also bringing a wide array of new features including:
A new aging slider to slow the animal lifecycle.
Immediate family members in animal info panel.
New heat maps including crime and inbreeding.
Nature assets and enrichment items.
Advertisement
The Arctic Pack DLC will arrive on December 17, 2020. If you're still on the fence about taking care of animals and running your own zoo, check out our Planet Zoo preview.