Advertisement
Select your enemies clean with the newest Vanguard ritual weapon. The Buzzard sidearm is sure to strike fear in your enemy's heart.
Season of Morning is here and Bungie has attracted new weapons for guardians to collect. This guide is going to show you how you can get the Buzzard Sidearm at Destiny 2.
The Buzzard Sidearm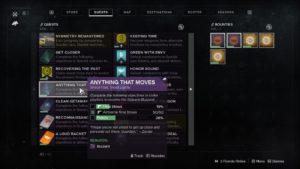 A new season means new ritual weapons as your reward for carrying on a Special pursuit. Be sure to Zavala to pick up the Anything That Moves pursuit, As Soon as You've loaded into the Tower for Season of Dawn.
The prerequisites for the Anything That Moves pursuit are as follows:
Advertisement
Fill the progress bar up to 100% by getting final blows with sidearms in Strikes.
Get 50 airborne final blows using a sidearm.
Score points in Strikes to fill the progress bar to 100%.
Obtaining Buzzard requires players to use Sidearms for it to count towards progress. The Sidearm recommended to use is an exotic called the Rat King. Airborne final blows are annoying to get, but the easiest objective to finish. It will take time to finish the other two objectives, but can be done faster in higher difficulty Strikes.
Perks
The Buzzard Sidearm can come with these perks:
Outlaw – Precision kills greatly decrease reload time.
Fourth Time's the Charm – Rapidly landing precision hits will return two rounds to the magazine.
Osmosis – Using your grenade ability changes this weapon's damage type to match your subclass until you stow it.
Swashbuckler – This weapon gains increased damage from melee kills and kills with this weapon.
Osmosis is a brand new perk that will change the damage of the weapon to what class you are using once you use your grenade. Osmosis is an interesting perk and time will tell if it is useful.
Advertisement
The Buzzard will be another great addition to your already stocked arsenal. Check out our Destiny 2 archives for even more guides.