The Week 6 Fortnite Challenges have only been published for Meowscles' Mischief, Part two and can be completed now.
The first portion of the Meowscles' Mischief Heads were published in Week 5 and the second portion of these challenges have been released literary and can be completed now.
There are 20 challenges for your Meowscles Agent and you'll have the ability to unlock a new design for this epidermis as soon as you've finished 18 of those challenges. You can choose between the Shadow or Ghost Mission to unlock its design, but remember, you can select one style to choose wisely.
FORTNITE CHALLENGES – WEEK 6
The last 10 challenges for Meowscles' Mischief are available to complete and could be seen below: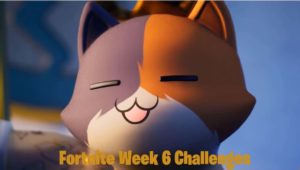 Search Chests at Frenzy Farm or Steamy Stacks (10)
Deal damage to players using Assault Rifles (1,000)
Search a chest within 10 seconds after landing from the Battle Bus (10)
Deal damage to players while riding in a Choppa (200)
Catch a weapon, a can, and a fish (1)
Eliminate opponents at the Yacht or Salty Springs (5)
Destroy dog houses (3)
Block damage with a Decoy Grenade (100)
Dance at Lake Canoe, Camp Cod, and Rainbow Rentals (1)
Ride the Steamy Stacks, a Zipline, and use a Secret Passage in a single match (1)
Completing each challenge will award you with 40,000 XP which will help you to progress in this seasons Battle Pass. We have created guides for some challenges that may be a bit more difficult to complete, which you can see by clicking on the challenges above.
As previously mentioned, once you have completed 18 Meowscles' Mischief Challenges, you will be able to complete a Mission to unlock either the Shadow or Ghost style to unlock its style for the Skin. We have created guides on how to complete the Mission, depending on the style you want to unlock, which have been linked below.
Fortnite Meowscles Shadow Mission – Deliver fish to Shadow
Fortnite Meowscles Ghost Mission – Deliver fish to Ghost