It might just be January in reality, yet it's now heating up on the Fortnite map.
The Fortnite Winterfest occasion saw the whole guide canvassed in day off, with the southwest mountains. The guide logically got snowier and snowier until storms started to seethe, making perceivability almost zero.
Notice
In contrast to different seasons, Epic chose to cover the guide with snow over the range of two or three weeks as opposed to at the same time. This choice caused the move to feel more vivid, regardless of whether the tempests were unfathomably irritating.
Read More: Epic tends to missing Fortnite X Star Wars accomplishments
A similar procedure is presently occurring backward. The guide is gradually defrosting and grass is starting to appear underneath the day off. Slurpy Swamp was the main territory hard-hit by the liquefying day off. The whole encompassing territory is almost 100% back to typical.
The rest of the map is thawing as well; slowly but surely. You can see grass around some random buildings as well as all throughout the coast.
Read More: Fortnite Chainsaw concept could replace lightsaber farming rate
It appears as though the map is thawing a lot quicker than it froze. We're only a day into the melting process and nearly a quarter of the map is already clear. We can expect further thawing as the week progresses.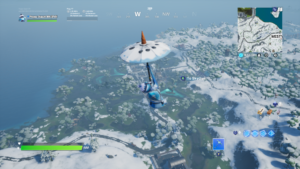 It was a fantastic change of pace to play in the snow, but the storms made things challenging. We'll all be glad to see those gone for another year. Now, back to your regularly-scheduled intermittent fog.
Read More: These suggestions would drastically improve Fortnite Upgrade Stations
What was your favorite part of the Winterfest update? The snow? The unvaulted weapons? Free cosmetics? Let us know in the comments.