One of Those Fortnite Season Two Week 5 Challenges requires players to kick a soccer ball 100 meters. Here you can finish this challenge.
We are Onto a second official week of Fortnite. That means there's a brand new set of challenges for players to finish. This weeks challenges are the Meowscles, a skin that can be unlocked in this seasons Battle Pass.
The Official title of the challenges is Meowscles' Mischief. As with the other two agents challenges, there will be two parts for your challenges. There is 10 challenges for part 1 with a part 2 unlocking at UTC.
There'll also be Additional challenges week for Meowscles that will require players to Send fish so as to unlock one of those epidermis styles.
One of today's challenges requires players to kick a soccer ball 100 meters. You won't be able to just kick a soccer ball by just running at it and hoping for the best. If you do that, you'll never get that challenge completed. We've created a quick guide on how and where you can kick a soccer ball 100 meters in order to quickly complete this challenge.
RELATED:
Fortnite Leaked Skin Challenges – Awaken Oro Challenges & Rewards
How and Where to kick a soccer ball 100 meters
Soccer ball Locations Fortnite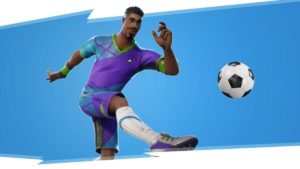 Here's where you'll find Soccer ball locations in Fortnite. Below that, you'll find the best location to quickly complete the kick a soccer ball 100 meters challenge.
Pleasant Park Field
North west of Frenzy Farm
East side of Holly Hedges
North West of Pleasant Park
There's a few soccer ball locations on the Fortnite map. There's one at Pleasant Park where the Choppa helicopter is located. However, this location isn't optimal if you want to complete the challenge as quickly as possible as you'll need to keep kicking and running with it to complete this challenge.
Instead, players can land or visit a hill that's location north of Frenzy Farm. There'll be a soccer ball at the top of the hill which you can simply run at in order to kick it down the hill. Once it drops down the hill and continues to roll, you'll have completed the kick a soccer ball 100 meters challenge.
RELATED:
New Fortnite Update v12.21 – Patch Notes, Server Downtime, Status, Leaks