Advertisement
Bringing a roguelike is an intriguing option. Since levels are randomly generated, it is difficult to get the full experience or RAD, but in precisely the exact same time that it provides the ideal idea about what to expect. And, according to what I played, it was intriguing enough to be enthused.
RAD is about as straightforward as it pertains. You play as a character, get a power, collect a weapon and experience outside to bring forest and things. The phases I saw didn't have much in terms of traps, enemies or even things to do but it made the experience interesting.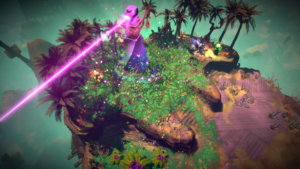 Advertisement
From what I saw, RAD punishes overly confident players. There were a lot of enemies that did damage after death or utilized traps that require a more cautious play style. Even the boss I fought was more than happy to punish me whenever I tried to unleash a combo. Anything more than one attack would result in me getting hit, even if I immediately followed up by trying to evade backwards.
Advertisement
Despite these concerns and simple controls, I'm interested in seeing how it all comes together this summer. It has the charm and content to match something like Moonlighter, something I'm sure Double Fine can manage, it just hinges on how well it deals with those pesky details.